2023 SEO Predictions
Going into 2023, the top predictions for SEO are often an extension of what has happened previously. It is getting harder to find clear avenues to revolutionise the search landscape.  Instead, Google is continuing to tweak larger elements of the overall algorithm such as updating rules around Core Web Vitals. Updates from the last year can be taken as an indicator of Google's potential future plans.
 A further increase in SERP Features
For marketers who remember when Google search returned nothing but 'plain blue links', such as the screenshot below, there's already been a large change. But we can only expect search to move further away from this in 2023 with many more search features.

Rich results can include local results, product results, videos, top stories (news), recipes as well as many of the other search features Google now displays.  These can be found in the search gallery.
When users search for certain famous people or a film, they might see a whole range of different search features showing at once. Take Piers Morgan for example: he has news articles, a profile box – known as a knowledge panel – his Twitter feed and other features. Meaning that while there are seven of these 'plain' links on the search results page, none of them are initially visible to the user.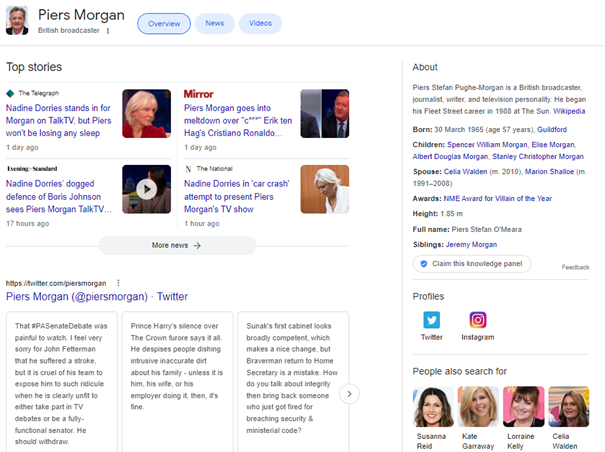 This is only going to get more prevalent in 2023. In an algorithm update in May 2022 Google increased the showing of  TikToK results by 99%!
We can already see Twitter and YouTube appearing in the search results as SERP features, but I can see this happening for both TikTok and Instagram along with other social media channels. We might even see a separate search option for social media, much like the image, video and maps options that currently exist.

Continuing to hunt out long-tail search queries will pay dividends
Google is still sharing the figure that 15% of searches conducted every day, have never been searched before. Consider that for a second: all those trillions of searches (currently about 9 billion a day) that have been conducted since Google launched and still 15% are unique every day.
This might be due to cultural changes such as "[…??…] Prime Minister", but it also shows a change in the way that people are searching. People rely on smart speakers, using voice search directly on their phones as well as expecting Google to provide accurate answers to very specific questions.
What does that mean for SEO strategies? As always, it highlights the need for a good content plan. For marketers, there are ways of finding what people are asking by using the "People also ask" section of search, now so ubiquitous that it appears in almost any search. For example: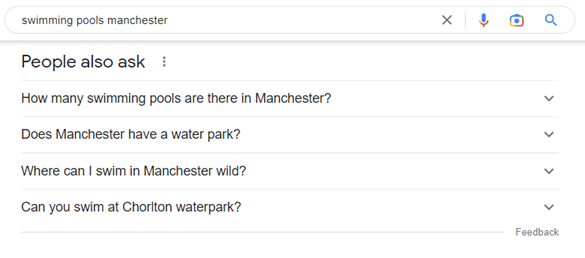 In the past, the result that appears would usually only show if it was the focus of an article e.g. Title is 'Can you swim at Chorlton waterpark'. However, Google is now able to extract very small segments of a long article and provide that section alone as the answer. Therefore, it's important to organise content in what is known as 'content pillars', a structured approach with each piece of content related to another being connected. Another important aspect in being visible in search, which is not new, is showing expertise. While E-A-T (Expertise, Authoritativeness, and Trustworthiness) has been around for almost eight years, Google continues to add ways of validating authors, sites and companies as a whole. If there is a commonly asked question, then the site with the highest amount of perceived E-A-T on the subject is likely to show.
Those that promote good reviews the most will thrive
Google has released four algorithm updates in the last 12 months in relation to product reviews. Understanding how product reviews are considered by Google is more important than ever.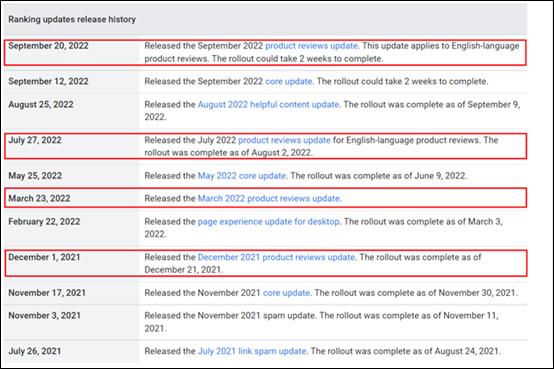 In local results it's now possible to see what people have said in their Google reviews.  For example, if a user was  looking for a 'buffalo mozzarella pizza', they could find pizza restaurants in the local area that don't mention their buffalo mozzarella pizza explicitly.  Instead, the locations appear because people who are writing reviews on the restaurant comment on their buffalo mozzarella as you can see below (for the record, I agree with these reviews).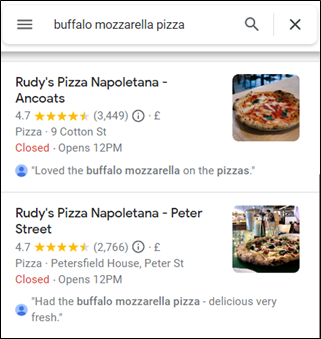 Furthermore, brand searches commonly show sites reviewing a brand on the first page,  , below only the website itself. The brand's reviews can be clearly seen in the local results.
I can see this only getting more prevalent in 2023, with direct quotes appearing in the search results themselves.
It's important for brands to work on their reviews and promote the good ones. We've seen success from putting client reviews directly on the homepage of the site and would recommend this to all brands. But step one is ensuring the reviews are good in the first place!
Understanding a business's niche search intent is better than trying broad strokes to get traffic
Search intent helps Google to decide what results to show. It is not simply the case that the biggest brands always win across a broad range of terms.
For example, if someone is looking to buy a new build home and searches 'homes in…' without using the word 'new', often new build homes will not surface. Conversely when searching using the word 'new' and talking about homes, it's less likely that traditional estate agents will appear (however, search portals have successfully covered both areas well, but that is a separate discussion).
There is also a level of personalisation on top of this. If Google knows that a user has been looking for new build homes recently, then it is more likely to resurface those sites, even if 'new' is not specified. Personalisation is something that Google has been doing for a long time and when we review sites and their ranking positions, we know this is different for every single user, depending on previous searches, location and other factors including devices used.
Though this is not something new, it is something that advertisers should always consider so they know what keywords apply to their specific industry and don't use broad brushes (e.g. wanting to rank for all terms related to 'houses').
It also means ensuring users are targeted in the early stages of their buying cycle through SEO, not just at the point of purchase. If a user has found and visited an advertiser's site  in the past when they are searching for a non-commercial term such as 'commutable places from Birmingham', then when they search with commercial intent e.g. 'new homes Dudley' the brand is more likely to appear.
Future releases will continue to focus on usability factors
The usability metric 'Core Web Vitals' that influences rankings was released back in June 2021, and many businesses still fail when measured against the parameters that Google has set out. Google has also started to provide more metrics in its Core Web Vitals reporting, which is likely to also to be included when deciding whether a web page passes or fails the assessment.
Google will likely become stricter on these parameters and further reward the sites with a better user experience. Brands and organisations cannot afford to have a slow site anymore. But it is not just speed, the more recent 'Helpful content update' helps ensure pages actually answer user queries, therefore it's essential that content genuinely provides the user with information, and is not just click-baiting people.
Google does not use Google Analytics data in its algorithm, but it does know how long a user spends reading a page before jumping back to Google search. Therefore, it knows if a result was no good and will lower its position in the search results accordingly. Providing useful information is therefore essential or users will quickly go back to the search result. This will not only result in the loss of that customer but potentially customers further down the line as the brand drops down the search results due to having a poor user experience.
Page usability is a broad subject and considers many different aspects of SEO. Part of our job is to combine these factors to understand what is most important for a client's pages and understand why people are bouncing. Is it because the content is poor or because the speed is slow? Getting people to a site is not the end of the job of an SEO.
Summary
SEO isn't planning to change its fundamentals in 2023. Rather we must adapt to the ever-changing search landscape by correctly understanding the key parts of these fundamentals.