A Black Friday checklist for eCommerce
I'll be honest with you. If you're reading this now, it may be too late.
We've been preparing our Black Friday campaigns for many of our ecommerce clients since early September, to make sure that they can take full advantage of this frantic time of the year. And it will be frantic. According to Adobe, online sales on Black Friday last year reached $9.03 billion, up 22% from $7.4 billion the previous year. And we expect much of the same this year.
But amongst all the hype, it's also worth noting that some of our clients chose not to participate in Black Friday this year – and that's OK too. Personally, I don't think every ecommerce store needs to jump on the Black Friday bandwagon. You need to take a careful look at your positioning in the marketplace, what your brand stands for, your product selection, your offers, and your margins.
For some, it makes complete sense to buck the trend. For others, it will be their most important time of the year. And for those that are participating this year, I'm hoping this humble blog post will serve as a useful checklist of some of key things to double (and triple) check before you hit that dreaded "GO LIVE" button.
In my experience (this will be my 5th or 6th Black Friday), I have boiled it all down into six broad categories to keep a watchful eye on:
The Offer
The Website
The Tracking
The Media
The Support
The After Party
The offer
This is an important one. If not the most important one. So, I'm going to spend most of my time here. Crafting the perfect offer that both appeals to the consumer, but also makes financial sense for the business is no easy feat.
The tendency for most is to offer a blanket 20% or 50% discount across the entire store and then bombard your existing customers with email and new customers on Facebook (other social media platforms are available). And while that will almost certainly get sales over the line (who doesn't love a 50% saving), that may not be the most sensible way to do it.
Now, before I go any further, I must stress that the following does depend on the type of product(s) sold on the website (for example, high/low ticket products, subscription based etc.), but I typically ask my clients the following questions before we come up with a BFCM offer together:
Firstly, what is the overall objective?
Are you going to use Black Friday to reach and recruit new customers into the brand, or are you going to use it to increase the AOV of your existing "loyal" customers? Or perhaps it's both.
This can make a difference to your offer. If you're going after new customers, depending on your LTV (lifetime value), you might be prepared to run a loss leader, with the knowledge that you can turn a profit later down the road.
If you're looking to target your existing customers, then ask yourself whether your margin covers the discount. If it doesn't, then you'll need to have a rethink on your type of offer (which I'll come to later).
And don't forget that your budget also comes into play here too. I'll speak later about the importance of using email to target your existing customers, but no doubt you'll be using other media channels to push your offers and you need to be prepared for the increases in CPM and factor those into your margins.
Bottom line is, having a good grasp of your numbers is vital here. You don't want to make a sale if it's unprofitable – even during Black Friday. Don't let those dizzy revenue numbers distract you from the most important thing here – your profit.
Do you have overstock of any items and what does the inventory look like?
During my university days (a distant memory now), I worked part-time in a high-street clothing retail store (I won't name names). They are well known for their sales, and during every sale the same stock showed up time and time again. It was never any of the new stuff.
Now I'm not saying that's wrong. In fact, it was a great opportunity to get rid of older stock at great prices for the customer – people where often queuing outside the store at 6am!
So don't feel that you need to discount every product in your store – especially those items that sell well at full price all-year round. Instead, look at opportunities within your inventory that you can offer great discounts on.
There may be some items in there that you are prepared to go big on. And the bonus here is that you can then say things like, "Up to 70% off on selected items" in your copy, even if it's only one or two items at that price. But that type of headline really sticks out.
Not all offers are created equal – choose carefully.
I've talked a lot about discounts. But's that's only one type of offer. In fact, there many other ways you can craft an offer for Black Friday. Here is a list of some of my favourites (tried, tested, and approved).
Product bundles – I love product bundles because they typically do very well. Simply add some products together (works best if they are complementary), and then apply a saving. To give it an extra boost, offer free delivery. As mentioned above, make sure the margins make sense, but it's a great way to increase your AOV. I'm also a big fan of the mystery box, but in my experience, it can be a little hit and miss. Test it and see if it works for your audience.
Adding perceived value – I once worked with a client in the health & fitness industry, whose product was enhanced by an after-purchase service. The basic (bronze) product didn't offer this, but the elite (gold) version did. So, during Black Friday, we offered the bronze product with the elite service (for the first 500 customers). It did very, very well. My point is that if you have something else to offer that has a perceived value (e.g., VIP membership perhaps), you can bolt this into your existing Black Friday offers to make them more appealing.
Daily deals – this is nothing new or particularly ground-breaking, but it does work. Leading up to and during Black Friday and Cyber Monday, offer scheduled daily deals. Mix it up here. Keep it different and entertaining. One day you could have an offer running across a particular category, and the other day it could be Free Delivery across the entire site for 24 hours. The key here is to make each day different, so that it keeps customers coming back to your site.
Gamification – I've seen it on many websites now, but the "spin to win" still gets me every time.  I love the feeling that I'm in with a chance to win that big saving. But even if I don't, I'm engaged on the site and the "runners up" prize is usually pretty good. See if you can wrap your offer up through gamification and make it fun for the customer.
Free delivery – Every time I have used the word "FREE" in my copy, my CTR goes up. It just does. People are drawn to the word like bees around honey. And I'm not alone. Even the great Google has testified that word "free" is a powerful word. So, if you can't go all guns blazing this Black Friday, with offers galore, trying something as simple as "free delivery" can work wonders. Build it into the price of your product if you must, but thanks to Amazon, it has now become the norm.
Important – don't forget delivery times and hassle-free returns policy.
This doesn't really fall into "offer" as such, but still very important and something to make sure you have included on your landing pages.
If you can, please make sure you can offer hassle-free returns and ensure that's communicated clearly to the customer. The same goes with delivery times. They are little details but do make a big difference. Please don't forget.
The website
I appreciate the term "website" is very broad. So, I'll try my best to break it down for you. When I say "website", I mean the following three things,
Speed, navigation & user experience.
Copy optimisations (product & landing pages).
Smooth check out (and after sale) process.
Speed, navigation & user experience
I've experienced this first-hand and it's horrible. I've worked with two clients in the past, where their site crashed during Black Friday because too many people were on it. And I've worked with others where the store slows down so much, you can't do anything.
And according to Retail Dive, 90% of shoppers will leave a website if it loads too slowly for their liking. And losing shoppers is losing revenue.
So, two things to check.
Firstly, check how much traffic is allowed from your host. Depending on your limit, you might have to upgrade your plan or temporarily ask for an increase during BFCM.
Secondly, check your load speed. According to Google, any site that takes longer than three seconds to load will result in 53% of visitors leaving for the competition.
Do your very best to ensure your site can handle that surge in traffic.
Depending on your objective, Black Friday could bring a wealth of new visitors to your site. And first impressions count.
So, take the time to run through your navigation. Check for any broken links. Make sure it's easy for customers to find what they are looking for. Check on laptop, tablet and mobile. Put yourself into the shoes of your customer.
At Space & Time, I usually recruit an internal team to visit my client's website and just run through the simple process of buying something and report back any issues. Or you can use something like Hotjar to help understand user behaviour across your site.
Copy optimisations (product & landing pages)
I cannot overstate how important copy is and what a difference it makes to your sales. And unfortunately, in the digital age, it does often feel like it takes a back seat sometimes.
I'm particularly passionate about this. My very first job in Marketing was for a company that specialised in direct response (mail order). And people like Claude C. Hopkins, Drayton Bird and David Ogilvy soon became my marketing heroes.
And the one thing that always made a difference to the response rate, was the copy (and creative). I learnt that great copy can often double your conversion rates.
So, take the time to review your product descriptions and optimise them for Black Friday customers. Not sure how to write great copy that sells? That's not a problem at all, come speak to us. We have specialists that can help.
Smooth check out (and after sale) process
I could have included this in the first point, but I wanted to pull it out separately, because I feel it deserves special attention.
And this isn't just a Black Friday thing. Having a smooth check out process should be something you work towards continuously.
And if you're not sure where to start, on Google Analytics, navigate to the Conversions section, Ecommerce and then Shopping Behaviour.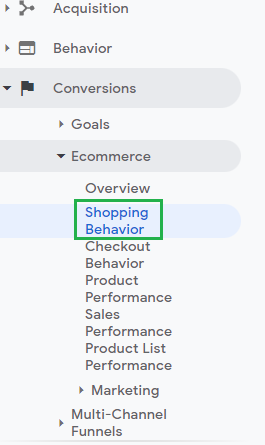 Here, you will be presented with the following: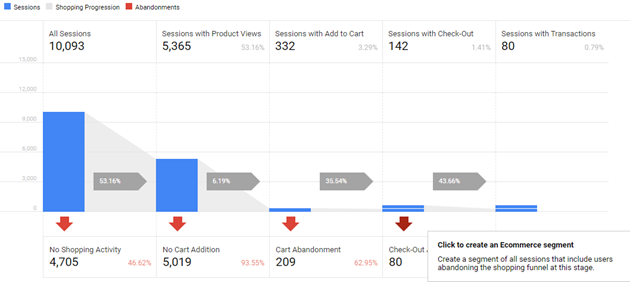 You can then see the conversion and drop off rates between each section of your checkout process.
Now the tendency here is to Google something like, "what should my checkout rates be?", and then get fixated on, "my add to-cart rate must be 10%". But it doesn't work like that. It really does depend on the industry and the product.
I have worked with ecommerce clients with conversion rates over 8% – and others with only 3%. But they both turn a profit.
So, my advice is this – simply try to improve your current rate.
Some things to look at here:
Make sure you convey your shipping and return policy clearly
As well as your safety and security icons
If you can, use a single-page checkout process
Skip the mandatory sign-up
Use shopping cart recovery emails
And don't forget to check on mobile!
There are many more. Google "how to improve my checkout rate" and you'll be served with over 45 million results. Take the time to go through this because a 1 or 2 percent increase in the conversion rate can make all the difference.
The tracking
This bit won't take long, but I'm surprised at how little consideration is spent on tracking and measurement.
First things first. Set your KPIs and understand the metrics you want to measure. Have your benchmarks in place, so you can keep track on what is (or isn't working).
If you have a CPA or ROAS target, start there and then work backwards. What are your conversion rates? How much traffic do you need to drive to your website to achieve your goal? What are the CPMs of those channels?
You need to understand these things before you start, otherwise, you'll have no idea whether performance is good or bad.
Secondly, check your URL parameters. I have audited many Google Analytics accounts in the past, and the inconsistences in URL tracking astounds me. Bottom line, if you're not tagging your URLs in Google Analytics correctly, then you are losing out on valuable information to look back on and make future decisions. So, your very first step will be to define your URL parameters. Now everyone does this slightly differently, but the key thing to remember here is to be consistent.
Let's have quick look at what you must work with:
Source: https://support.google.com/analytics/answer/1033863?hl=en#zippy=%2Cin-this-article
So, at the very least, make sure that all your Black Friday campaigns, share the same utm_campaign parameter. For example:
Source = facebook
Medium = cpc
Campaign = bfcm 2021
That way when you look in Google Analytics here: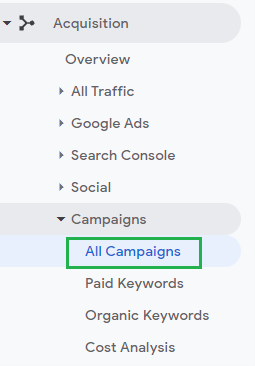 You can see collectively how your BFCM campaigns have performed (you can also compare to the previous month). And then you can split them out by source/medium if needs be.
You can then look at the both the individual channel performance and the overall campaign performance.
One other useful feature in Google Analytics which rarely gets used is the annotation section:

When you launch your campaigns, make sure you annotate this, because I guarantee when you start looking back 1 or 2 years from now, you'll soon forget when/what you launched with. So, make sure you take the time to make a quick note of those launch dates. You'll be glad you did.
Finally, just double check all your pixels on the site are firing correctly.
The media
I could spend a whole blog post on this. In fact, I could create a whole workshop on this part alone. But for now, I'm just going to stick to some of the key bits of information you need to consider before you go live.
And when I talk about media, I mean how to utilise the channels at your disposal.
Email
Email is your [not so secret] weapon. Despite the 100s of Black Friday emails your customers are likely to receive, I still highly recommend spending a significant amount of time optimising your email campaigns.
Here are a couple of things to consider:
Segment your lists and start early – depending on the size of your list and your business, I would recommend segmenting your audiences and crafting personalised emails.
For example, if you are a clothing brand, segment all your "shoes" customers (using the RFM model if you can – recency, frequency, and monetary value), and then craft a specific Black Friday offer for that category. They will feel like you are speaking directly to them.
And start early. And I don't mean start your Black Friday offers early, I mean start prepping them early. Let consumers know that you are participating this year and give them a teaser of what they can expect.
Create a Black Friday flow – I talked about how daily deals are a great way to get people coming back to your site again and again. Use email to schedule in your campaigns. And don't just rely on one email per day – schedule a few different ones at different times. As I mentioned before, their inbox is going to get clogged up with Black Friday headlines pretty fast – just look below!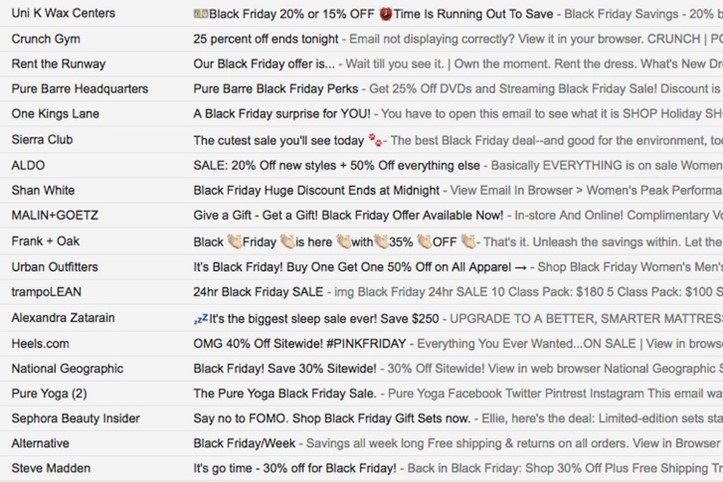 Social media
A no brainer of course. Try to use as many social media channels as your budget allows but consider these things.
Use Custom Audiences to build your remarketing lists – like with email, use remarketing to your full advantage. Segment you audiences the best you can and create personalised Black Friday ads, offers and landing pages for that segment.
And then create full-funnel campaigns – build out your Black Friday campaigns using the TOF, MOF & BOF framework (BOF = bottom-of-funnel).  At the TOF, create LLA (lookalike audiences) and interest campaigns. At MOF, capture those website visitors, social engagers, and video viewers. And at BOF, capture those checkouts and add to baskets. Tailor you message to suit each audience. You can then start to see what campaign is performing best.
Use all the creative options available – try to be as liberal as you can here and don't just stick to one creative type. Mix it up a bit. Try videos, images, carousels, and collections. Try offer campaigns and dynamic copy.  Never forget the fact that you are also learning what works for next time. So don't restrict yourself. With the increased traffic, this is a good time to experiment.
Be wary of high CPMs – I wouldn't say this should discourage you, but it's certainly something to consider and build into your margins. Do expect higher CPMs during this time as competition increases.
Google Search & Shopping
You can't run a Black Friday campaign without considering your Search and Shopping activity.
Now is a good time to check your keywords and the copy for your Black Friday campaigns. Make sure the landing pages reflect the search queries and try to utilise the full suite of Google products available to you (e.g., Discovery). Although not exclusive to Black Friday, I would suggest following the recommendations here to get the very best out of your creative.
The support
I put this in because something very unfortunate happened to me a few years ago in a previous job that still sends shivers up my spine…
The planning had been textbook. The product offers were well thought out. The creatives and copy looked great. The audiences were segmented. The landing pages were set up. The media channels were scheduled. The tracking was in place.
We were ready for a big weekend of sales. And on the Friday, we switched everything on. And it was good. Orders started coming in thick and fast. And then it all stopped. We had reached the limit on our credit card!
I can't quite remember the next couple of hours (perhaps I've pushed them out of memory). But I remember that we lost a lot of potential revenue before we got things back up and running.
So, my point is this. Double check everything. Make sure you have the financial support and the back-end support to handle the increase the traffic, sales, and costs. Don't make my mistake.
The after party
Once Black Friday has finished, have a follow-up plan in place, to take full advantage of all these new customers. I would consider placing them in a specific Black Friday email flow to further nurture them from one-time buyers to loyal customers.
When we run competitions for clients (or significant loss-leader campaigns), we often find that the quality of that audience isn't quite as good and most do not come back for repeat purchase.
Black Friday tends to do this too. People show up for the offers and then disappear when you try to sell them something at full price. You're not going to convert everybody, but it makes sense to have a follow-up campaign to try and make that extra sale.
And there you have it. My list of considerations for Black Friday. A lot of it is common sense stuff, but easy to forget when you're wrapped up in everything.
But don't forget we're here to help. So, if you would like us to audit your Black Friday campaign (or any other campaign for that matter), please get in touch.