Does TikTok have Instagram Running Scared?
In the latest update from global social media giant, Meta, they announced the introduction of new ad placements across their most frequently adapted platform, Instagram. There's a pretty clear cookie-crumb trail from this decision leading all the way back to the unprecedented growth of TikTok over the last couple of years. The below piece of Hootsuite research is a great illustration.
TikTok turned six just last month, but it really came to prominence during lockdown: housing an onslaught of make-up tutorials and dance challenges which were very well received when we all suddenly had a lot more spare time. So much so that it became the most downloaded mobile app worldwide in 2021. With an average monthly usage of 27 hours TikTok completely eclipses the other leading social platforms, with YouTube and Facebook clocking just 16 and 15 hours respectively. But it really is the year-on-year change in usage that has other platforms straw-clutching for exposure and ultimately revenue. TikTok saw a mammoth 37% YoY increase in time spent on the platform, so it follows that something's gotta give. It's this imperative that has led to Instagram taking the following steps to mitigate loss of investment into the platform.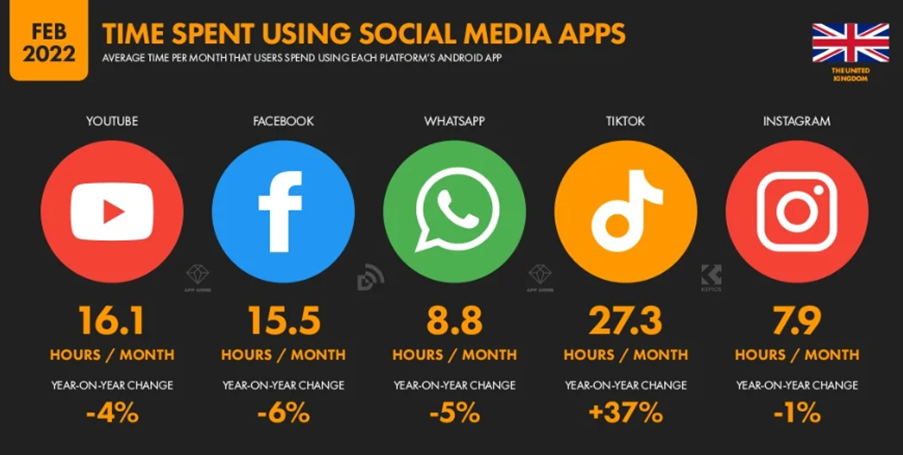 Instagram Introduces Ads to Profile Feeds and Explore Home Tab
Never one to back down from a challenge, Instagram have made a move to protect revenue by remaining attractive to advertisers, and remediate their recent drop in usage.
While some face has been lost due to a decline in user time spent on the platform, they've taken the step to limit the impact had on actual revenue by making sure more ads can be shown in more places on the platform: effectively increasing the potential revenue per user. Hence the latest announcement to 1) introduce ads to users' Explore home tab (see image) and 2) test the introduction of ads to users' profile feeds.
"Explore home, the grid that people see when they first arrive on the Explore tab, will now feature ads to reach people in the earliest stages of discovering new content they care about," the company said in a blog post earlier this week (see ad in situ).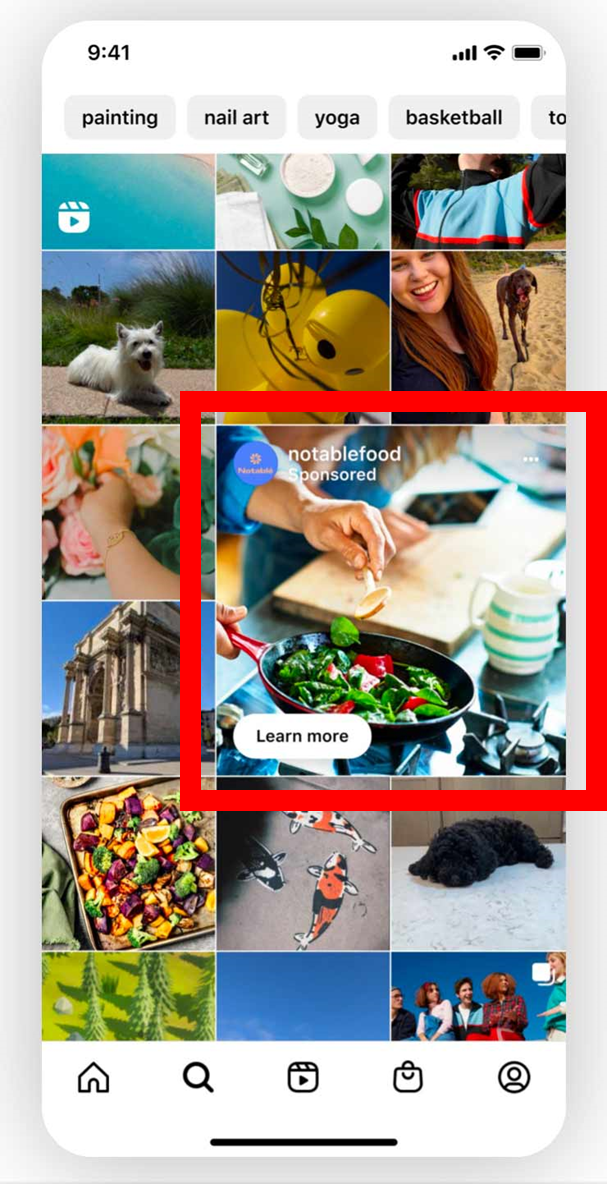 "Ads in profile feed give advertisers the opportunity to expand their reach easily using existing feed assets, while giving people the same personalized ad experience they enjoy in their main Instagram feed," the company said in its recent post.
Space & Time's biddable media experts will be monitoring the impact on our campaigns' ad impression as these placements roll out. As one consequence of Meta's intent to expand to new real estate within Instagram, designers should consider how ad creative sits within these growing range of placement opportunities. With an increasing share placements now focussing solely on the media (images/video), in many cases surrounding copy won't be visible: having any key message displayed as an overlay on the core media is definitely recommended to secure most value from the increased reach offered by these new placements.