Instagram introduces ads in the Shop tab
With social media playing a pivotal role in ecommerce marketing, the opportunity to trade directly within platforms can make a significant difference to how brands interact with their consumers, and every minor tweak or update from the bigger social platforms can create sizeable new threats and opportunities for its advertisers. With this in mind, Digital Strategist Jason Cotterill talks us through the latest change from Instagram 
With the introduction of the shop tab last year, Instagram continued to show ecommerce brands and retailers that Instagram is the social media for online sellers. Instagram's internal data from 2019 shows that 130 million Instagram profiles, click on shopping posts along with another study showing 70% of shopping enthusiasts use Instagram for product discovery. Now with ads being displayed directly on the shop tab, it gives us the opportunity to reach these users at a specific place in their buying journey which we may have struggled to do previously. 
The shopping mindset
Arguably, one of the biggest struggles with Facebook and Instagram advertising is that your target audience is often not directly looking for what you're selling at that moment in time. The ads are often designed to pique curiosity and grab attention with the final conversion often then coming from remarketing ads. However, with the ability to now advertise in the Shop tab, we can now target users directly in the shopping mindset. 
Looking at a generic ecommerce marketing funnel, if the user is actively searching for products similar to yours then they are likely already further along in their purchase journey which increases conversion rates and ultimately increases ROI. With the recent iOS changes and some elements of attribution becoming more challenging, reaching these people further down the funnel straight away could be a vital tool to increase conversion rates instead of relying on remarketing. 
What do they look like?
I've yet to find one of these stylish new ads on my own Instagram shop feed but thankfully Instagram have provided an example of how they will look: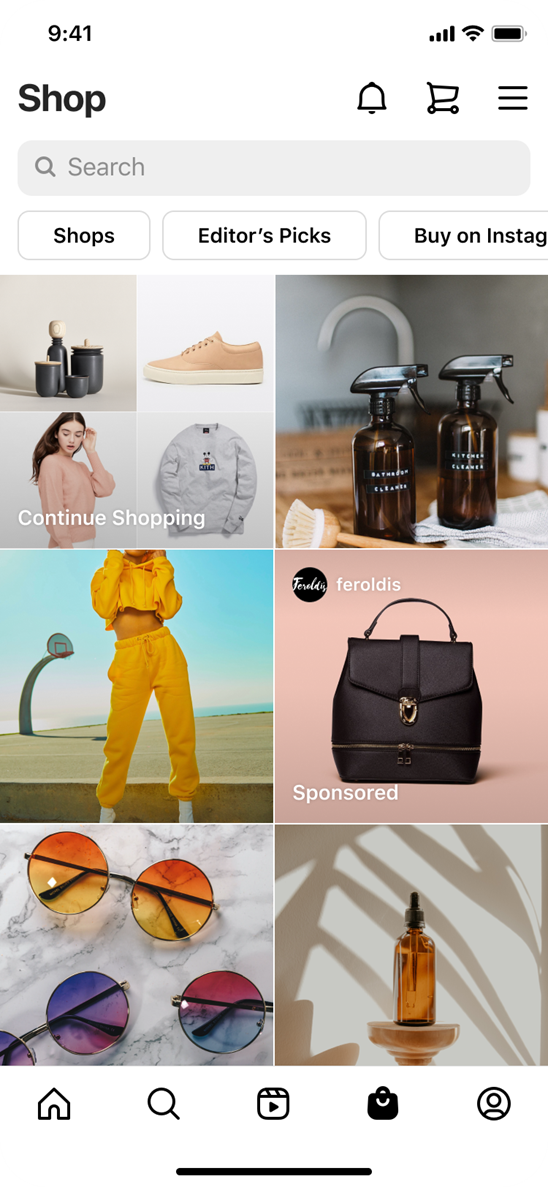 The ads are native and blend in with the other content similar to the usual Facebook ads we're used to. With a lot of Instagram products not being fully optimised for the Shop tab, there could be a unique opportunity to have your products stand out using bright colours with a product focus shot similar to the example we can see from Feroldis. Action shots can work just as well and entice users to click, but it's important to be clear in the picture what product you are selling as the Instagram Shop tab does not display product names. 
Our takeaway 
In conclusion, the addition of ads in the Shop tab within Instagram is positive and represents a significant opportunity for advertisers, but it's fair to say they aren't exactly ground-breaking and won't require a complete rewrite of our marketing plans.  
However, over the short term at least this could be a great opportunity for ecommerce stores to get a leg-up on their competition by taking advantage of the route to market. Also, I strongly expect feed optimisation for Facebook/Instagram shopping to be a must-have conversation for ecommerce marketing departments. 
We'll certainly be advising our ecommerce clients to take full advantage of this new placement when it becomes available and monitoring performance closely. And if you need help with your ecommerce store, please get in touch and we can have a conversation around how we can grow your business.