Why Amazon SEO is a critical part of your overall search presence
If you sell any products online through your own website, you are probably also selling them on Amazon. If you aren't, you better have a good reason as to why not!
Data from Sales Lion shows that 44% of product searches now start directly on Amazon. So, the efficacy of your budget spent on other channels could be almost doubled with strategic investment in Amazon. But there's more to consider than just the direct searches that bypass Google: Amazon's presence for those starting their searching on Google is incredibly strong as well.
Generic – Pets
Generic – Health and Beauty
Generic – Toys and games
Furthermore, when looking at brand searches they were often only outranked by the brand site itself and their social profile pages: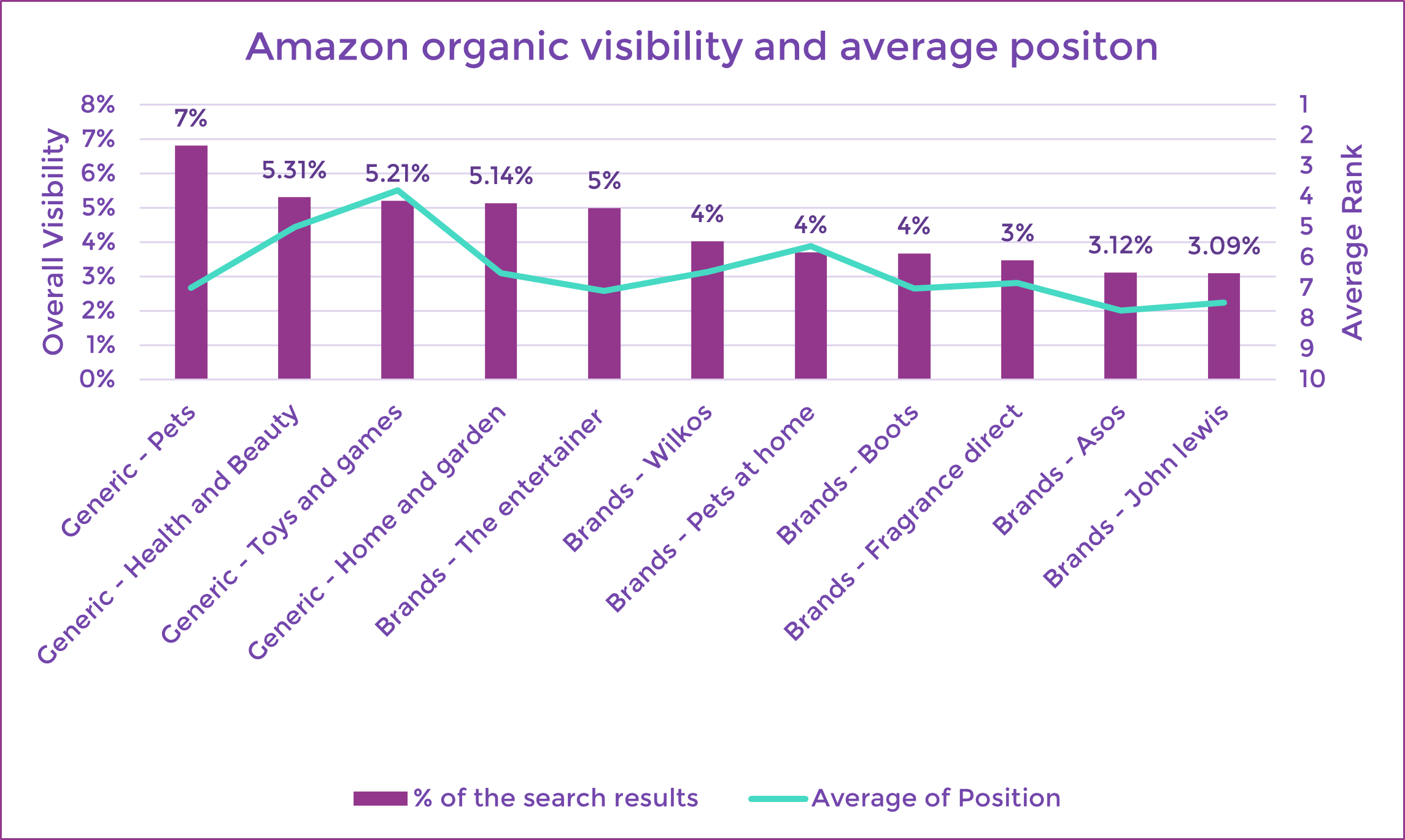 This data only considers organic visibility too and not even the shopping or paid results. 
Alongside Amazon other resellers such as Argos, Boots and John Lewis perform particularly well in terms of total search visibility. Which, when considered alongside their breadth of products, means their offer makes a lot of sense for many brands. Often an advertiser might find they have significant freedom on a reseller site to promote their product or influence the design of the page, but none have the laid-out foundations for visibility quite like Amazon does, creating their very own search algorithm, now known as A10 algorithm.
Without knowledge of the workings of the algorithm, brands are often found to underinvest in their appearance and ranking on the Amazon platform and simply hope that uploading their products will be enough. But there is so much more that can be done.
How does Amazon SEO work?
Amazon SEO focuses on two key elements: visibility and conversion. As Amazon do not need to consider upper-funnel queries in the same way that Google must e.g. "What can I do to help me sleep?", and the focus is purely on products, the keyword aspect is still dependent on the more 'simplistic' SEO practices of maximising keyword density and variety at the expense of visual appeal.
You might think this is outdated and looks unappealing. But the performance of this platform speaks for itself, and one can imagine Bezos losing little sleep over the issue, as his recent Tweet concerning early responses to AWS attests: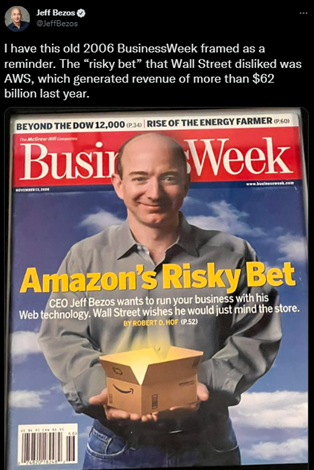 Whatever you may or may not believe about how your Google PPC spend influences your SEO (but just to clarify, spending more on PPC does not directly impact your SEO on Google), if you spend more on paid Amazon listings, your organic results will rank better.  This functions more like Google's personalisation influence (a site you have already visited is more likely to reappear for another related search); Amazon rewards this more directly, with a product's volume of sales directly impacting its visibility in the results pages.
How do you increase Amazon conversions?
Conversion rate, as with any product across any medium, cannot escape the nominal decision making factors of price and brand. But with those consumers who are making a more extended decision, who are more likely to read through the differences between products, and understand why they should pick your product over your competitors' version, the important thing is to focus on the listing itself. This is particularly significant when considering sectors such as health and beauty, or when purchasing an expensive or long-term product. For example, what makes your vacuum cleaner stand out from the other 100 vacuum cleaners on Amazon if it isn't the price, and how can you structure the appearance of your listing to make this reason to buy more prominent or more credible?
Some key elements to consider when optimising  results include:
Are you maximising your descriptions, images and product features?
Do you have any A+ content and if so, how appealing is it?
If you're left questioning many of the above, then get in touch. We have an analytical approach to ensuring our clients' Amazon listings excel, and they continue to take control of their whole search landscape.
 Sources:
https://saleslion.io/ecommerce-statistics/44-of-people-go-directly-to-amazon-to-start-their-product-searches-compared-to-34-who-use-search-engines-like-google-bing-and-yahoo-to-search-for-products/
https://zoovu.com/blog/types-buying-behavior/