Google wave goodbye to TrueView for Action
After only a few years Google has decided to sunset (upgrade) its popular 'TrueView for Action' campaign format as part of the evolution of its offering. Instead, advertisers will now have the option to create a Video Action campaign.  
What are Video Action campaigns? 
Action campaigns are made up of two ad formats: Skippable in-stream ads (no change from TrueView for Action) and a new Video Discovery ad.  
Skippable in-stream ads – these ads appear before, during or after other videos on YouTube. After 5 seconds, the viewer has the option to skip the ad. At the end of the ad a clickable CTA will appear, linking the user to a designated landing page.

 
Video Discovery ads – this new format consists of a thumbnail image from your video ad with some text and they appear in places of discovery on YouTube – next to related videos, on the YouTube search results page or the YouTube mobile homepage.

 
These ad formats are all set within a new responsive ad group, which is designed to get you as many conversions as possible – so they show in more places on and off YouTube (for example, the YouTube Home feed).  
Essentially, if your goal for YouTube is to drive conversions, then Video Action campaigns are designed for you. 
Creative guidelines 
For all new Video Action campaigns, we will require the following assets alongside a video/ ad.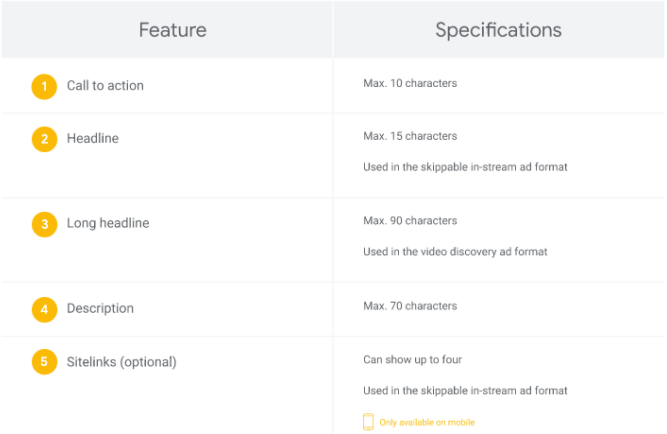 When will these changes occur? 
From 30th September 2021 you won't be able to create new TrueView for action campaigns, but existing TrueView for Action campaigns can continue to run.  
From early 2022, Google Ads will automatically upgrade all TrueView for Action campaigns to Video Action campaigns and opt all Video Action campaigns into new inventories across all Google networks. 
How will this impact performance? 
Google have shared data suggesting that Video Action campaigns will deliver 20% more conversions compared to TrueView for Action campaigns. Our early findings are to expect an increase in reach (impressions & views) and conversions should remain stable or increase. 
If you would like to discuss these updates and how you could utilise them, then please get in touch with our in-house Google Ads specialists.