Microsoft and ChatGPT – The latest…
Since it was launched in November 2022 it seems everyone has been talking about and experimenting with ChatGBT almost non stop.
You've probably read about the power of this new chatbot, from its ability to plan holidays through to writing students' essays and growth marketing agencies' blog content – not this one I might add!
But what does the future hold for this new piece of tech, and how will it affect advertising?
What is ChatGPT?
ChatGPT (Chat Generative Pre-trained Transformer) is a chatbot launched by OpenAI in November 2022. ChatGPT can answer questions and carry out requests in text form, based on information from the internet, as it was in 2021.
Why are Microsoft involved?
Microsoft has invested billions of dollars into OpenAI and is integrating ChatGPT into its Bing search engine as well as other products in its suite of Office software.
In a bid to wrestle search user market share from the might of Google, Microsoft has announced a new Bing and Edge browser powered by upgraded ChatGPT AI.
Microsoft says it's using conversational AI to create a new way to browse the web. Users will be able to chat to Bing like ChatGPT, asking questions and receiving answers in natural language.
"It's a new day in search," said Microsoft CEO Satya Nadella at an event announcing the products. Nadella argued that the paradigm for web search hasn't changed in decades, but that AI can deliver information more fluidly and quickly than traditional methods.
What about Google?
Google has responded by unveiling its own answer to ChatGPT, Bard. CEO Sundar Pichai described the software as an "experimental conversational AI service" but noted that it was still in test phase and will receive a wider launch in the coming weeks.
Bard "draws on information from the web to provide fresh, high-quality responses," a differentiator to ChatGPT as it is expected to also be able to answer questions about recent events – post 2021.
What does this mean for search advertising?
Google has been leading the way in AI integration across many of its products. Over the past few years, Google has been using AI to summarise more and more search results, surfacing information from sites so that a user doesn't have to click and explore themselves. And with the rise of voice search users are more comfortable with using Google search to ask more nuanced questions than ever before.
All this has done a terrific job of foregrounding ways in which AI can enhance the user experience of search and facilitate entirely new ways to access digital information: potentially a job that may now be to the benefit of Bing and OpenAI.
One major possible consequence for search advertising is an increase in share for Bing: it's a long-standing claim from Google that the most searched phrase on Bing is "Google". If the below grab from Google Trends is anything to go by, Microsoft may be able to make some similar claims of their own in the near future: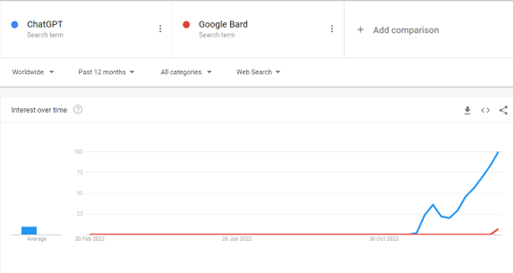 If AI is able to bring about such a seismic change in the UX offered by Microsoft's search engine, it's entirely possible that users will vote with their feet and desert Google for Bing. This will likely bring with it further changes of users' preferred tools: for example increasing the use of Edge and reducing uptake on Chrome. Advertisers will then inevitably respond to this change in audience dynamic with a commensurate shift in investment.
It is of course too early to tell exactly how this will all play out and it will be fascinating to see how the power of chatbots will impact search over the coming months. AI annotations could supplement traditional search results by appearing side-by-side, or perhaps fully replace pages of web links with one definitive answer. How this will quite work with paid search advertising is not yet clear, but no doubt this is a significant innovation that could challenge Google's search dominance and revolutionise paid advertising targeting and delivery.
… and when we asked ChatGPT this question, it had a few ideas of its own