New Homes Index: July 2022
In a week when the Bank of England raised its interest rate by the largest increment for 27 years and governor Andrew Bailey predicted both 13% inflation and a recession, the current and future state of the nation's finances is a major part of the public discourse, and its potential impact on various sectors will be front of mind for many brands. For most experts a downturn of some sort clearly seems inevitable, but trying to predict its impact on consumer sentiment or on actual spending is more of a subjective exercise in speculation.
Within the new homes sector, our New Homes Index uses first-party data to offer an immediate grok of the market. Predicting the future remains an art not a science, but the NHI does at least offer real-time updates based on the latest data sets. As is germane this month, it also offers a view of the top-of-funnel engagement, which is likely to give a reasonable indication of lower-funnel commitment and, ultimately, sales in the coming weeks.
Happily given the crepuscular economic situation, there were some encouraging signs concerning the top of the funnel in our July examination of the New Homes Index. Having both been falling since January, sessions and high intent goals parted company in July. Over recent months we have seen goals falling faster than sessions and a resulting drop in conversion rate. This month for the first time, sessions rose while conversions continued to fall. While there was increased hesitance regarding booking an appointment or making a phone call, more people were engaging with our clients' websites. Sessions rose 4.3% MoM, while high intent goals fell 6.5%.


To some extent this shift is an effect and not a cause: with a drop off in engagements, developers are investing in driving more traffic to their websites. Paid search is routinely the largest single source of sessions, and it grew its share by 1.37% quarter on quarter. The second largest source, organic search, fell by 1.64% over the same period.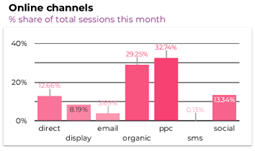 Between them these two adjustments offer a narrative for the market in its entirety for the coming months: there are still people out there who want to move home or who need to move home, but they're going to be slightly more scarce than of late. The economic situation will likely make them more discerning, and we're going to have to do slightly more to defend our share than we've had to in recent years.
This is a period where a focus on detail and a rigorous, strategic approach to audience selection and messaging will be vital, but it's not necessarily a looming disaster. The uptick in sessions offers a reason to be cheerful: yes it's likely a response to increased investment, but investing into paid search is only effective if someone actually clicks, and in July they clearly did click.
There's also solace to be found in the share of new vs returning users: reaching 60% for the first time since December, the new user metric suggests that a higher than normal proportion of web users last month were just setting out on their homebuying journey. Or possibly, given the increasing value of sustainable living while fuel prices escalate, more people already on the journey to buy a home began to consider new build last month. In the context of a growing total session volume, this increased share for new users is particularly encouraging: the growth in share represents a genuine growth in absolute volume and not merely a diminishing of the volume of returning users, as will have been the case in December.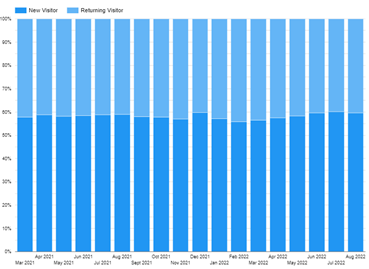 Growing new homes' share of total transactions is always a key objective when the overall market begins to shrink, and it's here where marketing can really prove its worth; identifying and communicating with in-market consumers and reaching out to them with appropriate reasons to buy new will be essential as the economic situation begins to decline.