Tackling environmental issues through Media
Already one of the largest and most urgent challenges of our times, the threat posed by climate change is moving into a far more prominent position, playing a major role in our social discourse through 2022. Within this post, we'll explore the role of media in addressing this issue, and the importance for brands in particular of getting messaging right – looking at clothing brand Patagonia as an example. We'll then look to 2023 and explore three key areas to consider for green innovation in media and messaging, as tackling climate changes moves further into the mainstream.
According to research from Kantar, climate is a challenge which the media carries the greatest responsibility to solve, more so than other wide-ranging social issues such as the economy, Covid-19, resources/ energy, inflation and pay. The common sense of this finding is easily understood: while the general public and corporate entities do clearly have a responsibility to help solve climate issues, the media plays a major role in establishing social norms that will ultimately influence both the public and corporations in their attitude to this increasingly urgent challenge.

It's perhaps unsurprising therefore that 2022 saw an increased reliance on sustainability messaging for advertisers of all stripes. Kantar states "the number of campaigns that address social and environmental issues has tripled since 2016 and now stands at 6% of all ads" (5 tips to get sustainable messaging right, Kantar and Affectiva, March 2022). The same study also highlights the importance of getting the message right and of striking an authentic tone, as opposed to supporting a cause for purely commercial reasons.
Patagonia is an excellent example of a brand with a genuine approach to saving the planet. Their message is unabashedly anti-consumerist; an inherently difficult brand position to achieve for any consumer product. In 2011, Patagonia famously ran their 'Don't buy this jacket' campaign around Black Friday, raising awareness of the resources required to produce one of its fleece jackets and urging customers to reduce, repair, reuse, and recycle before purchasing only what they really need.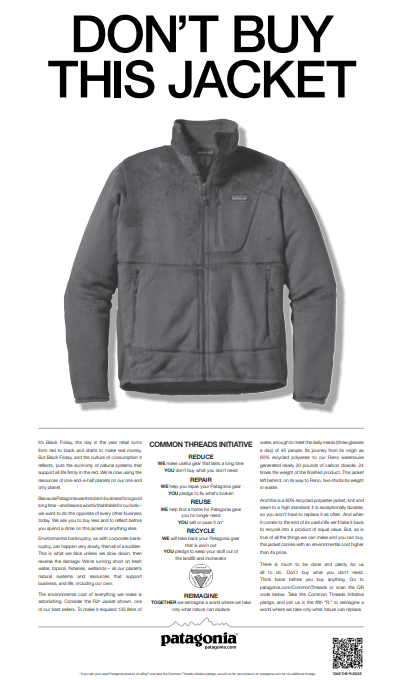 Source: Friday, November, 25, 2011 edition of The New York Times
Over the years, the brand has made sure to support this campaign and others like it with actions, developing a coherent ethos that spans operations and messaging. On Patagonia's 'Worn Wear' hub, consumers can trade and purchase second-hand Patagonia items in exchange for credits towards a different item. More recently, the company's founder Yvon Chouinard – a passionate climber and naturist who allows his employers to go surfing whenever the surf is good – announced that all Patagonia shares were being donated to 'earth', i.e a trust 'fighting the environmental crisis and defending nature' (Patagonia, 2022).
Looking forward to 2023, Kantar identifies three key areas where green innovation maybe particularly salient:
The environmental impact of any campaign's media mix needs to be considered – buying media that is more environmentally friendly will complement an environmentally friendly message, while failing to do so will open the door to accusations of greenwashing
The need for more data & insights – there is a disconnect between people's environmental attitudes and their actions, so more data is required to give a richer picture of this
Economic factors affect environmental behaviours – the current economic climate is impacting buying habits and consumers may not so freely be able to spend more on ethical products, so advertisers need to be mindful of value as well as sustainability. Opportunities within some sectors to align economy with ecology are particularly valuable in this regard, as our Associate Director for Strategy recently described.
eBay addresses this last point well through their recent 'That's the eBay way' campaign which illustrates their objective of making buying and selling valuable for everyone. A series of three lively  30-second clips have found mass appeal by focusing on the 'Style seekers' https://www.youtube.com/watch?v=gpmOalNGoV0 , the 'Bargain hunters' https://www.youtube.com/watch?v=OhcUpLGzEWo , and the 'Experts' https://www.youtube.com/watch?v=44idvZiw6YA.
The central message here is that eBay offers love towards the planet, value, and support for small businesses – all incredibly relevant in today's modern world.
For our own part, Space & Time has committed to the Ad Net Zero pledge: achieving net zero by 2030, in adherence to the SBTi's 90/10 target. There's a huge amount for us to learn in this space and even more still to be achieved, but the commitment is half the battle: we've acknowledged the issue, made a pledge to address it and we're learning how to quantify our carbon position and from there, how to remove it.
Given how important the media's role in solving climate issues is, and the increasing value that consumers are placing on an authentic brand position on sustainability, it's clear that advertisers must get their approach right. Appearing authentic is key, or perhaps more properly, being authentic is key, as demonstrated so comprehensively by Patagonia. As we move forward into 2023, advertisers must also consider the environmental impact their media mix has on the planet and be mindful of how the current cost of living will impact consumers. We hope to see more data and insights to help us understand better the connection between consumers' behaviours and their environmental attitudes, to help guide that all-important messaging.