What social channels are right for your brand?
Does your business need an Instagram account? Is TikTok the right platform to reach your target audience? Or should you just tap into all the social media platforms available with the hope of increasing your customer base? This blog will take you through the key platforms available, with some guidance on how best to use them. 
Let's start with Facebook, the advertising giant that everyone knows and talks about. A major benefit of Facebook advertising is its ability to reach specific audiences. With over 2.9 billion monthly active users, Facebook offers a wide range of demographics to target. Facebook is a phenomenal platform for brand awareness and direct marketing because of its incredibly sophisticated advertising algorithms, which allow advertisers to target consumers during each stage of their purchase journey. Whether you want to retarget someone who's been to your website, added to their basket, initiated checkout, or purchased a product/service, Facebook allows you to retarget any of these audiences with up to 180-days retention time. 
As well as a strong retargeting ability, Facebook's location targeting is extremely sophisticated compared to other social channels. Facebook is the only platform that allows advertisers to pinpoint target geographies on a map and set a radius around that location. Facebook also has an extensive list of interests available to target which helps advertisers target exactly who they want, at the right place and at the right time. Therefore, Facebook is the go-to platform for brand awareness and direct marketing.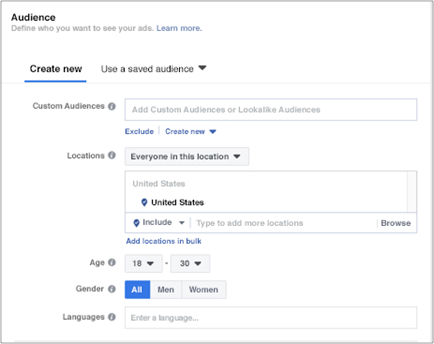 Source: https://www.facebook.com/business/ads  
Instagram is owned by Facebook and all advertising is set up and run in the same way as Facebook ads. All the same targeting capabilities are available for Instagram advertising too, which makes Instagram another recommended channel for brand awareness and direct marketing. However, Instagram specialises in influencer marketing like no other platform. People who have built a large and engaged following on Instagram are known as 'influencers,' because their followers idolise them and respect their opinions. They may have acquired a loyal following due to their lifestyle, their job or hobby, the clothes they wear or the stories they tell. According to a recent survey, 93% of consumers say that online reviews influenced their purchase decisions, whereas 91% of 18–34-year-olds trust online reviews as much as personal recommendations. Influencer activity is a contemporary form of online reviews. As they post 'paid partnership' posts about their favourite product or service, their loyal followers are influenced to also try out what's been advertised by the influencer. Instagram influencer marketing is great for e-commerce brands especially because of Instagram's shop feature, which allows consumers to click directly through to the shop to purchase instantly.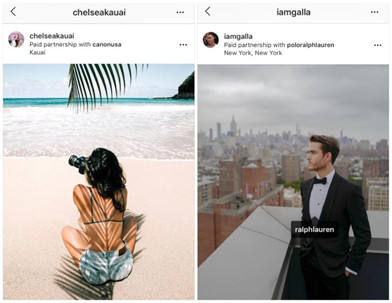 Source: https://www.hopperhq.com/blog/instagram-influencer-marketing/  
Next, we look at Pinterest, a platform that has grown in stature over the years. Pinterest works differently to other social media channels. Many people don't use the network for broadcasting content to their followers – they use it to save valuable ideas, products, and content for a later time. Since many consumers save products then go back and purchase them later, Pinterest is the perfect tool for businesses selling specific products or content. In fact, 93% of users plan purchases with Pinterest, and 87% make a purchase because of something they saw on the platform. 
Pinterest allows you to target by choosing specific keywords, and this then determines which searches your pin will appear in. It is important to choose a variety of keywords; some specific, some generic, so that your pin ad can be seen by as wide an audience as possible. Pinterest also offers location and age targeting. 
Pinterest ads contain an image, caption, and link, and are displayed in users' home feeds, like this: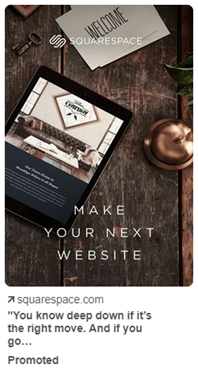 Source: https://instapage.com/blog/pinterest-ads  
If your target audience is more corporate, then Linkedin is your friend. Due to Linkedin's employment and company targeting capabilities, this social channel stands out amongst B2B companies and recruiters. Being able to narrow your target audience down to a job title within a certain company is what makes Linkedin so effective – perfect for B2B targeting as well as finding the best candidate for a newly available job role. Despite Linkedin being slightly more expensive than the likes of Facebook and Pinterest, it sees a 3.5% higher conversions rate for B2B campaigns.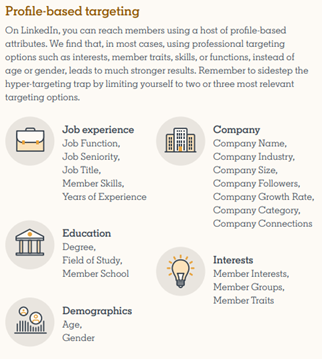 Source: https://business.linkedin.com/content/dam/me/business/en-us/marketing-solutions/cx/2020/pdfs/read-me-drive-more-leads-fa.pdf  
Since early 2020, when people around the world were forced to stay at home, TikTok has become everyone's new best friend. TikTok had its biggest month in March 2020 with 115m global downloads. We've all seen (or maybe even participated in) a TikTok trend that went viral and can see how influential this social channel has become since it launched in 2016. 
In early 2019 TikTok introduced TikTok Ads. Although it was quite late to the party, TikTok has introduced some unique ad formats including the infamous 'hashtag challenge' and 'branded lenses' ad formats. As well as retargeting capabilities, TikTok offers location, age and interest targeting like the other social media advertising giants. 
The video sharing app's advertising capabilities aren't as sophisticated as the likes of Facebook or Linkedin, however, due to the unique and engaging ad formats available, TikTok is better suited for a younger audience.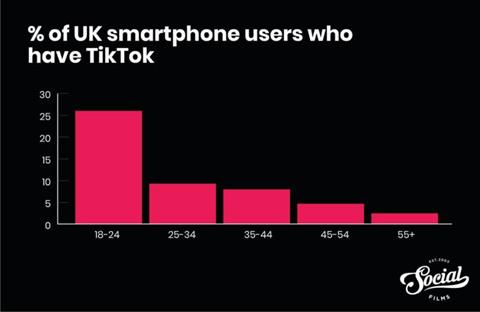 Source: https://www.socialfilms.co.uk/blog/tiktok-uk-statistics  
Finally, Snapchat – the first app with the concept of disappearing messages – which were introduced in 2011, with SnapAds first launching in 2014. As SnapAds' popularity grew over the years, it became the most popular app amongst 13–17-year-olds. Snapchat's key demographics are 13 to 29-year olds with 69% of 13 to 17-year-olds using the app and 62% of 18 to 29-year-olds using it. Snapchat has excellent retargeting capabilities, therefore making it a good platform for direct marketing as advertisers are able to retarget users based on a number of ways including those who have engaged with your Snapchat Ads and visited your website.  
In summary, Facebook and Instagram are best used for prospecting and direct marketing, whereas Linkedin works incredibly well for B2B advertising. As many people do not use Pinterest for broadcasting content to their followers, this social media channel is best used as an inspirational platform which allows the user to revisit what they've "pinned" later. TikTok – being a video-only platform that is also only available by downloading the app – is better suited for influencer marketing for a younger demographic as the majority of active users are between the ages of 18 – 24. Similarly, Snapchat's key demographic is 13 – 29-year-olds, making it a go-to social channel for brand awareness and direct marketing for eCommerce brands.